At Parallel Interactive, we get a little obsessive about our clients' SEO strategy. Before any new website content is created, we first conduct an SEO content audit.
Why? Because good content is a crucial part of making sure you end up on top of a search engine results page (aka SERP). Great content keeps visitors captivated and cultivates qualified new business leads that increase our clients' revenues – and that makes everybody happy. Before we get too carried away on the end result of your SEO strategy, we take an honest look at what kinds of content already exist: what's working, what's not, what's missing, and what's been used way too often. Moz blog guest writer Alli Berry shares her insights on a few of the most common website mistakes learned from an SEO content audit.
No Call-to-Action
What's the goal of each page? If it's not obvious what you'd like a visitor to do next, you may be losing them simply because there's no clear destination. Increase your SEO ranking by decreasing your bounce rates — the rate at which you get dropped by visitors after viewing just one page. Whether you'd like them to visit your store, fill out a contact form, download your latest e-book, or read other relevant content, make sure you give visitors options to stay on your site or, better yet, convert them from casual browsers to customers.
Failure to Address All Stages of the Customer Journey
Avoid the temptation to drive all content towards the shopping cart. Approach the customer journey like an old-fashioned courtship. Remember to include all stages in the buyer romance: awareness, consideration, purchase, and retention. Here are some examples:
Awareness: Content that illustrates the relevance of your product, how-to articles that educate do-it-yourselfers (but really build credibility for appreciative readers to consider your services), e-books, webinars, infographics.
Consideration: Product comparison charts, case studies, demos.
Purchase: Product features, trial offers, coupons.
Retention: Newsletters, product updates, upgrade and referral incentives.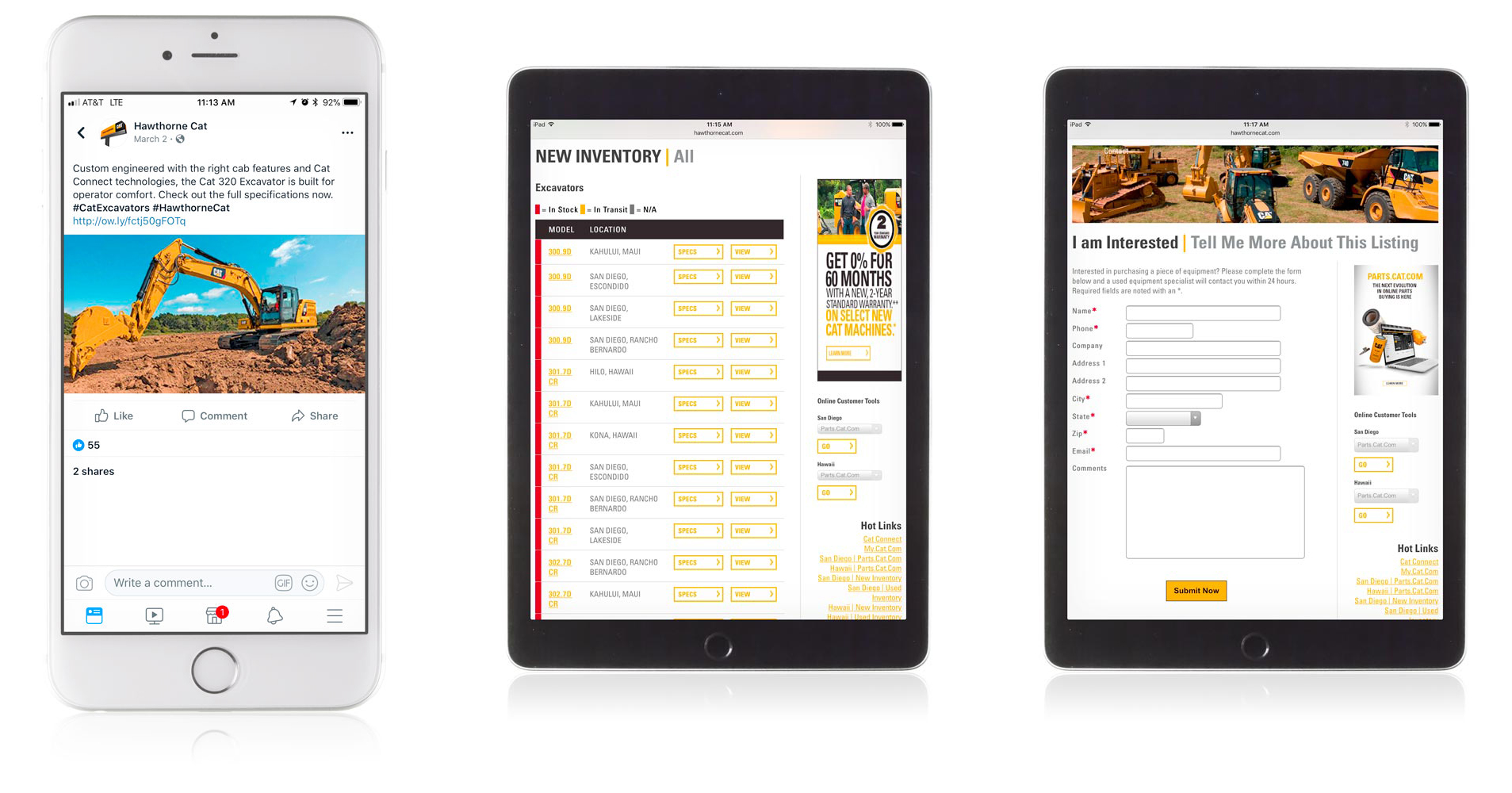 Testimonials Untapped for Their Fullest Potential
The classic testimonials page kind of lost its luster with the onset of third-party sites like Yelp, Google Reviews, and TripAdvisor. But that doesn't mean your customers' positive reviews don't matter. Find ways to fold this valuable content into relevant pages. Include quotes on how your product successfully addressed a customer's challenge in the product benefits page. Boost local relevance by adding testimonials from customers in the regions surrounding your storefront location. By adding testimonials to the pages visitors are already reviewing, you're helping them make their final decisions to purchase without going out of their way to find your happy customers.
Lack of Locally-Relevant Content Where It Matters
One of our clients, Hawthorne Cat, is the exclusive Cat® equipment dealer in San Diego, the Hawaiian Islands, and the Pacific Region. Parallel creates content specific to the regional dealership's inventory to make it easier for local businesses to purchase and upgrade equipment without wasting time browsing products that aren't available in their area. Content focuses on product specifications that are relevant to contractors and job sites in temperate, tropical climates. Here's an SEO content audit quick tip: collect comments and most frequently asked questions from your sales team to help guide your editorial focus, so you're able to make a national product more relevant to customers in your own back yard.
Too Much Industry Jargon
Don't let all the great qualities about your company get lost in translation. One of the most common website mistakes learned from an SEO content audit includes speaking a foreign language to people who are new to your industry or sounding cliché to those in the know. Using industry jargon and technical language distracts from a customer's ability to really understand what separates your company from the pack. When writing copy, don't assume that your readers know as much as you do. Keep a beginner's mind and focus on these three things during your keyword research:
What are the core benefits of your product and why should a prospect care?
How does your product make life easier or better?
What's the call-to-action?
Avoid generic language and get specific. Support your sales pitch with real-life business results, case studies, and customer successes to establish trust and back up your product claims.
---
Parallel Interactive is a top SEO agency, San Diego-based, representing regional and national brands, each beginning with a detailed SEO content audit.
If you're looking to boost your company's SEO with website content that captivates and converts, contact us.
---