The new Hawthorne Cat construction equipment digital showroom helps sales teams close deals faster by empowering customers to search current equipment inventory in real-time.
Browsing Caterpillar's online product catalog and working with a dealership sales rep to match inventory with project equipment requirements used to be a time-intensive process. That's why Hawthorne Cat, the exclusive Cat® equipment dealer in San Diego, the Hawaiian Islands, and the Pacific Region, teamed with Parallel Interactive. This dynamic crew launched a regional Cat construction equipment digital showroom that streamlines the customer journey for construction equipment purchasers.
Customers self-qualify by using the digital showroom to research specific models by location, build out specifications (options), and transit status. Our client has stayed ahead of the curve as more construction equipment purchasers are doing their homework before showing up in person, mirroring an upward trend with mainstream consumers.
Consumers Research Before They Buy
Back in 2010, BuyerZone surveyed 495 commercial and consumer construction businesses on how they make their equipment purchasing decisions and what's important to them during the sales process. More than 71 percent of respondents said they rely on internet research before contacting a local dealership, just slightly trailing word of mouth recommendations (74.9 percent). Nearly half of those surveyed said ease of navigation and detailed product specs were most important to them when researching products on supplier websites. Just over half said it can take up to a month to make their final purchasing decisions.
Fast forward to 2014 when Merchant Warehouse merged several major studies to discover that the majority of consumers who own smartphones are "webrooming" – researching products online, then purchasing at brick-and-mortar showrooms. In fact, 69 percent of 18 to 36-year-olds and 71 percent 37 to 48-year-old consumers are webroomers, according to the study.
Converting Browsers to Sales Leads
Hawthorne Cat's new inventory listings include a simple call-to-action that converts browsers to pre-qualified webroomers by referring them directly to a dealership sales representative. While this digital showroom helps sales teams close deals faster by refining their lead generation, it also provides a platform for consumer loyalty marketing. Each customer's equipment sales cycle can be tracked with detailed analytics and leveraged to enhance customer relationships via marketing automation, including follow ups with personalized offers and special promotions.
How We Did It
To ensure the Hawthorne Cat construction equipment digital showroom is cost-effective, Parallel Interactive developed an XML feed integration with the CMS module (content management system). This module merged the company's enterprise resource planning (ERP) data with Cat Product Content (CPC) data, using an intelligent, flexible pattern matching process. All current inventory is synced daily with Hawthorne's ERP data using an automated feed. Robust exception reporting monitors the updated regional dealership data integration with the CPC for errors that require manual intervention.
The CMS module allows for override of the automated feed with backend controls. This format also makes it possible to migrate the custom integration feature to future website upgrades, requiring only minimal changes during the process.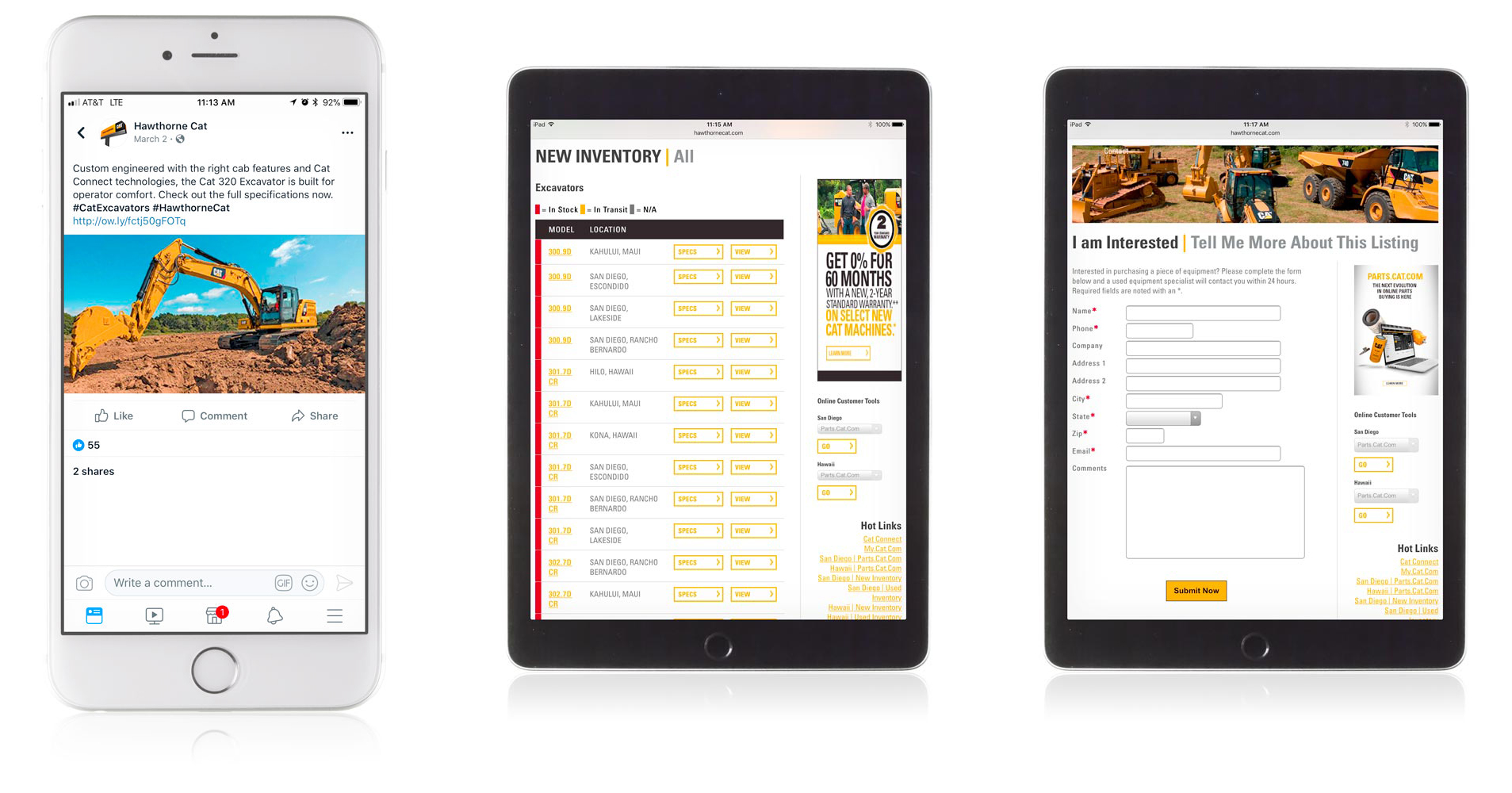 Hawthorne Cat Construction Equipment Digital Showroom Boosts Email Conversions
Prior to creating the new Hawthorne Cat construction equipment digital showroom, their digital e-promotions consistently earned above average open rates, but remained static for 18 months. Once specific product inventory listings were added to the monthly e-promotions, click thru rates increased an average of 77.5 percent and open rates increased an average of 2.4 percent over a six-month period, peaking at a 4.6 percent increase. These conversion rankings are well above the industry average.
---
Is your website content working in sync with your full-stack of digital marketing tools? If you're ready to attract new customers and keep them coming back with the most current, product-focused content that counts, contact us at San Diego website development agency, Parallel Interactive.
---